It was a Monday, like any other Monday.
The sky was blue. The grass was green. The birds of Copenhagen were singing, and like pretty much every living being in Denmark, they seemed a little happier than what's natural.
What made this Monday different was that I did something I've never done before.
I launched on Product Hunt.
To be specific, I launched this newsletter. And it reached #1!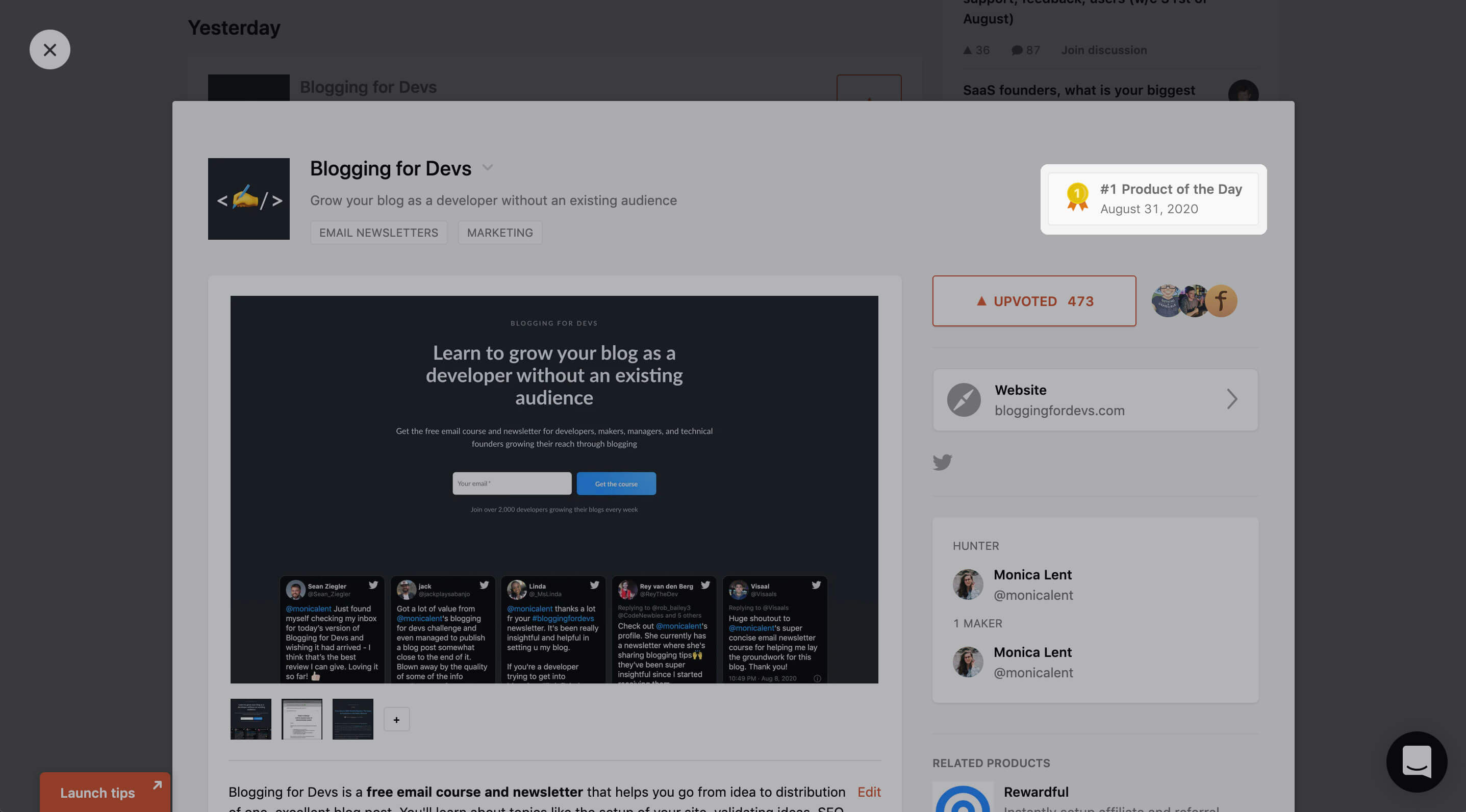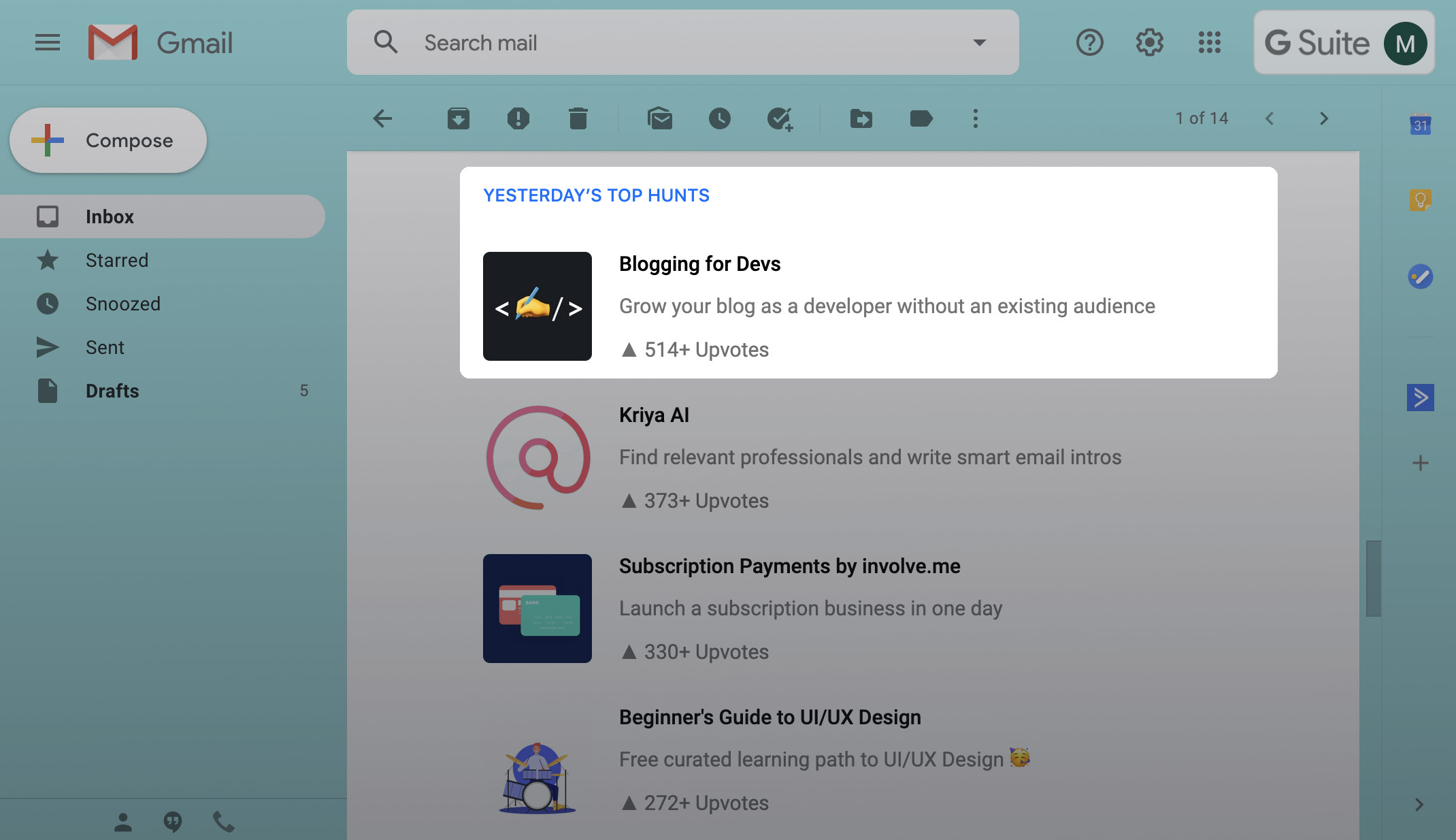 Clearly as it was my first time, I'm no expert at launching on Product Hunt, launching in general, or even running a newsletter to be honest.
I'm just learning as I go.
But as a nosy person myself, I thought it would be fun to share a bit of the behind the scenes of the Product Hunt launch:
Results: Traffic, conversion rate, and new subscribers
Preface: Existing followers and subscribers on different platforms
Preparation: The world's smallest Product Hunt prep checklist
Execution: For better or worse, what I actually "did" to launch
Reflection: Which conventional Product Hunt advice I found online, which I followed, which I ignored, and a few hypotheses about the results
This post won't be long. It's mostly be screenshots and lists.
Hopefully it'll encourage someone out there who, like me, who's never even thought about launching on Product Hunt.
Maybe it's more attainable than you think :)
Again, I'm not an expert at this, but maybe there are bits about my launch you can learn by having a look behind the curtain.
Results: Did the Product Hunt Launch actually attract the right people to visit and subscribe?
We'll look at traffic, subscribers, and conversion rate by referrer. I'll also compare it to the first "launch", which I did on Twitter.
To summarize some of the metrics from the Product Hunt Launch:
514 upvotes (within the first 24h, now 600+)
35 reviews, 4.9 out of 5
96 comments (half of which are my replies)
1.5K visitors from Product Hunt during the launch
30% conversion rate (approximately)
1,170 new subscribers (by mid-day Friday after a Monday launch)
Lots of new friends :)
Here's a look at this in a visual way.
How much traffic to expect from Product Hunt
Here's the traffic that Blogging for Devs received from Product Hunt in the #1 position for almost 24 hours.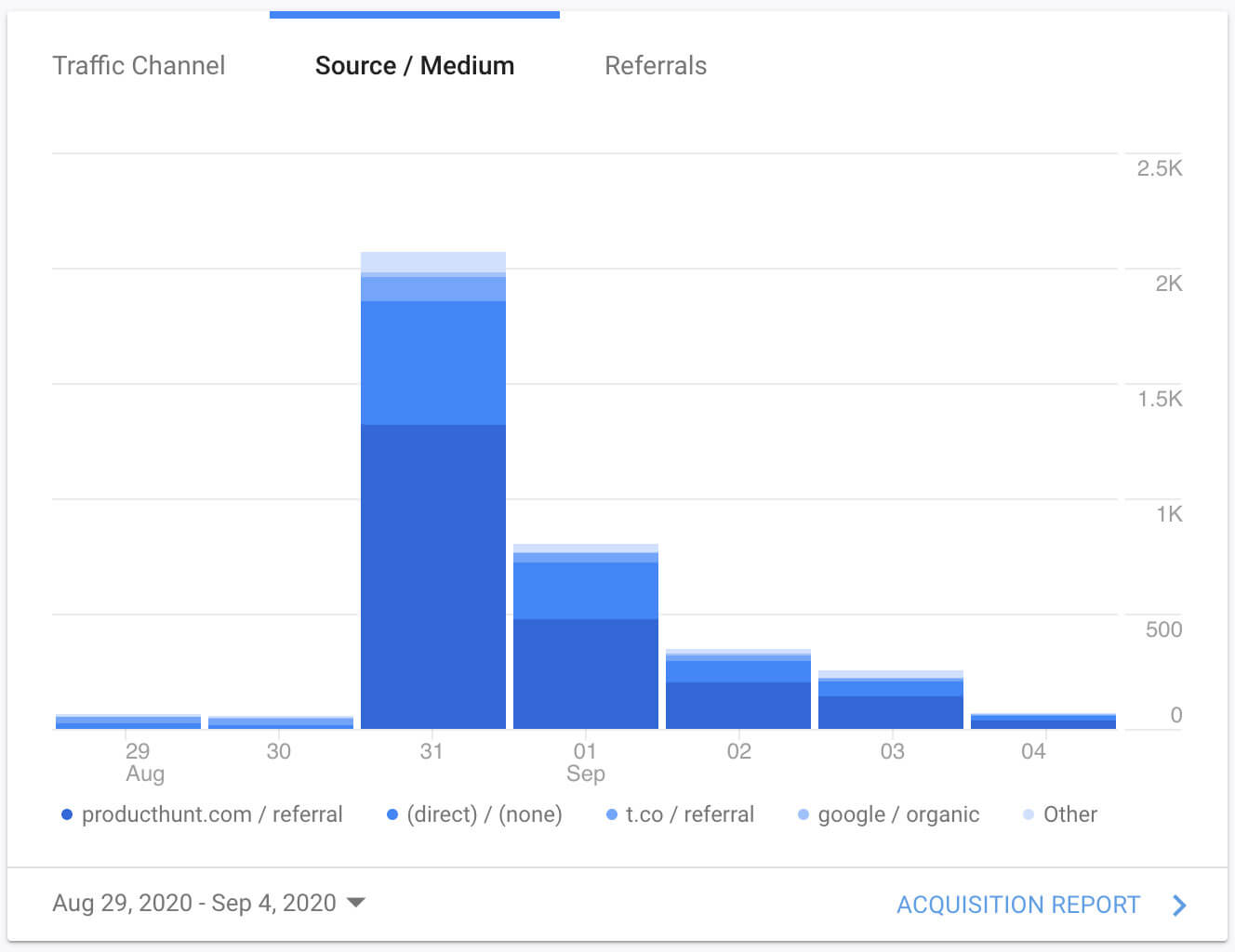 In total, about 1.5K users visited Blogging for Devs from Product Hunt during its tenure in the first position. Including the following days, this number grew to about 2.3K users (between Monday and Friday afternoon).
How many signups came from Product Hunt
Between August 31st (Monday) and mid-day Sept 4th (Friday), the newsletter added 1,170 subscribers (ignoring cancellations).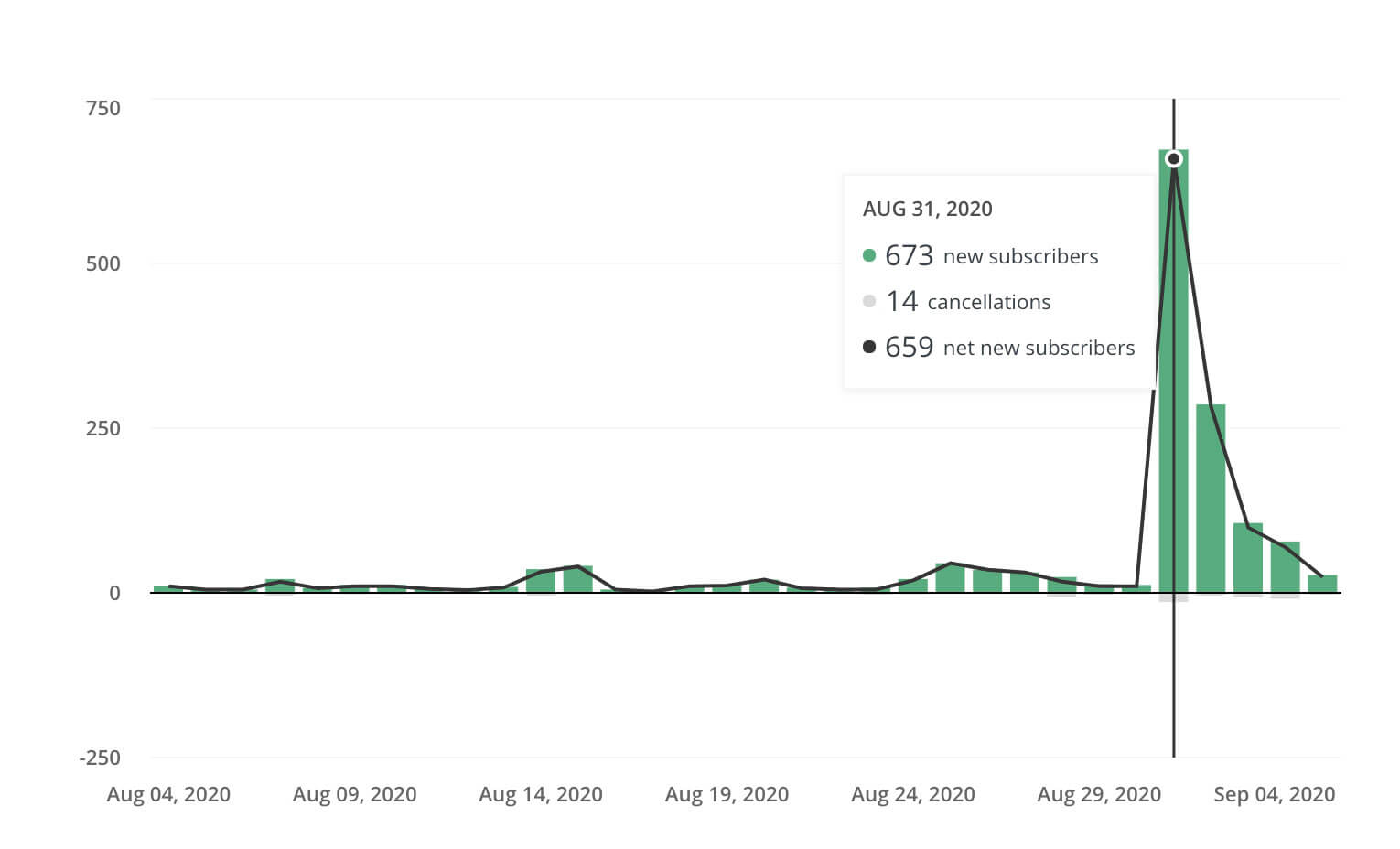 But not all new subscribers came from Product Hunt during the launch. In total, 762 subscribers came from Product Hunt or sites that aggregate data from Product Hunt.
They became subscribers at about a 30% conversion rate.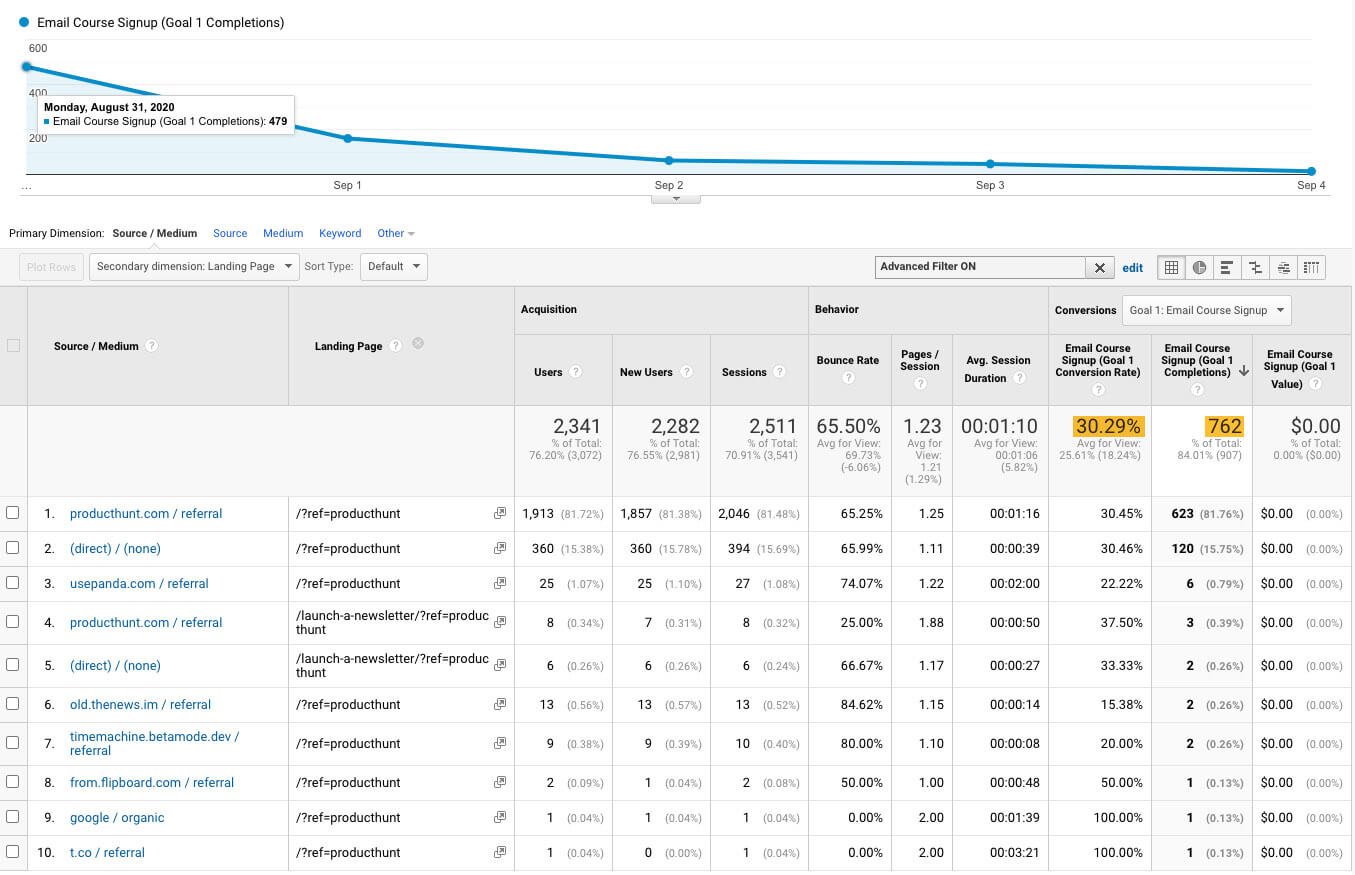 That's based on Google Analytics, however I believe the number to be higher based on 1) How many developers may be blocking Google Analytics 2) How many subscribers are confirmed in ConvertKit (1,170 confirmed vs 907 events).
(One thing I haven't tried to figure out is if this could be because of timezone differences. Treat all of these numbers as approximations!)
Apart from Product Hunt, some people subscribed after seeing the post on Twitter: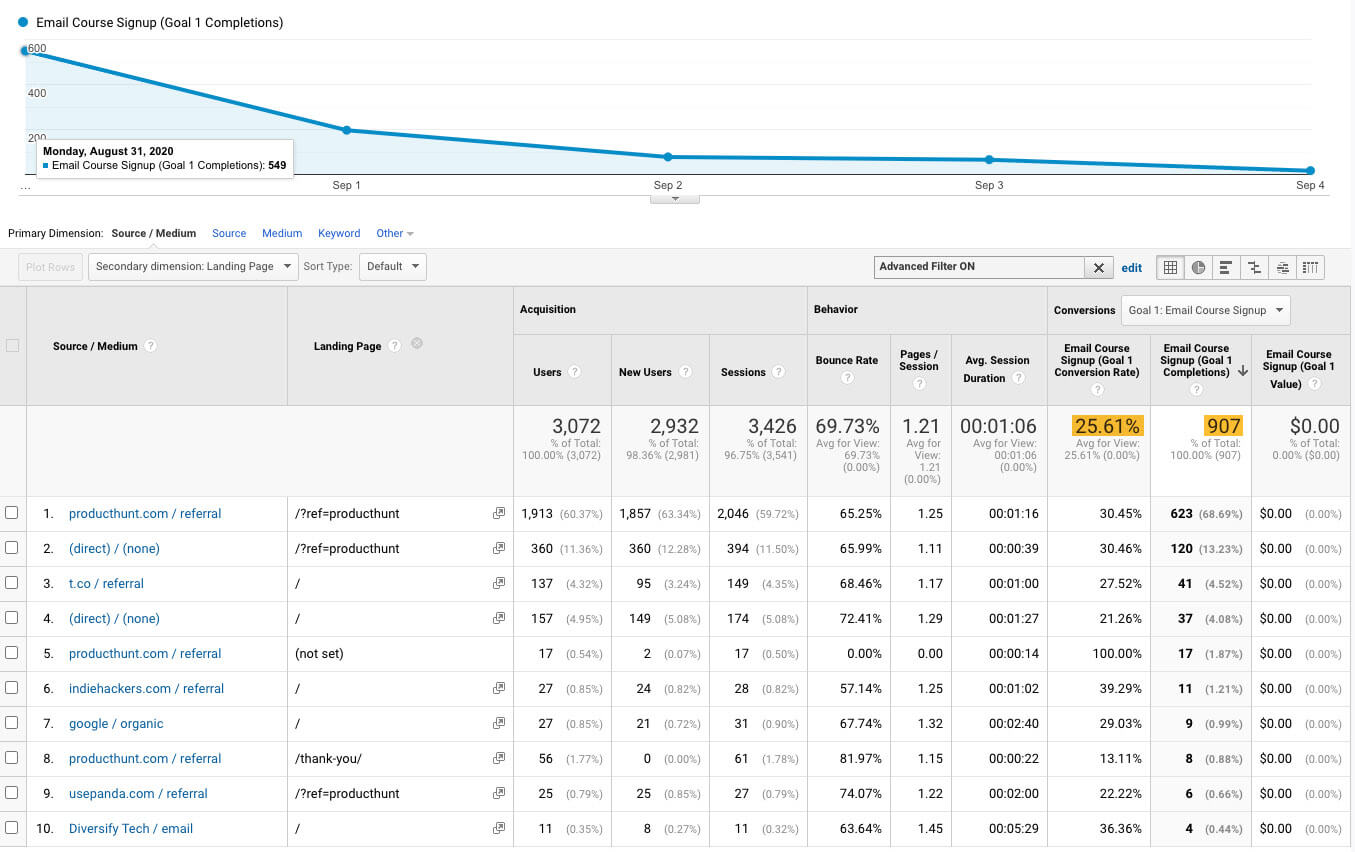 The last chart before talking about the actual process is a comparison between launching on Twitter vs. launching on Product Hunt.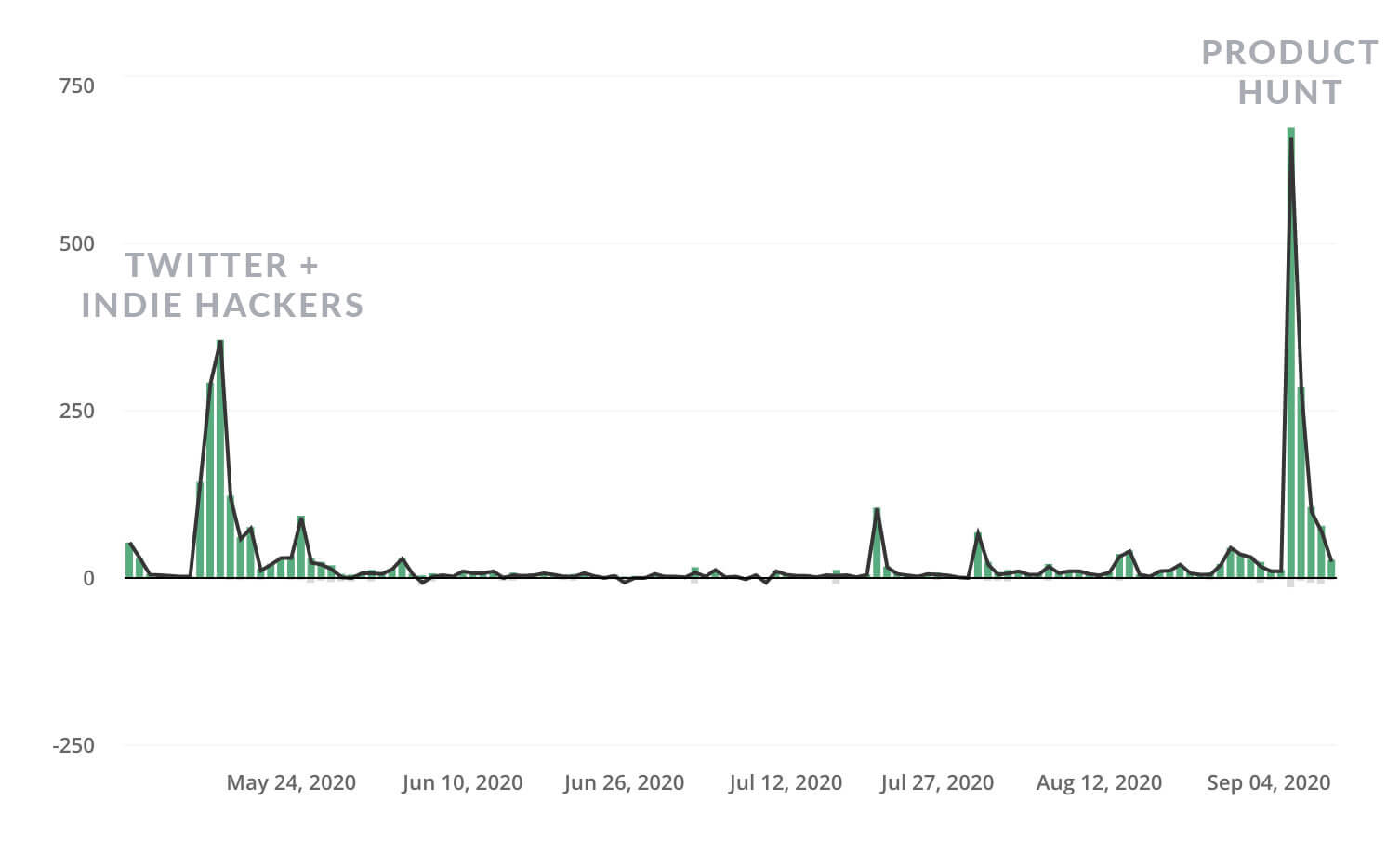 The first big spike in the chart is from when I launched the email course on Twitter.
The second big spike is from Product Hunt.
What's funny is that even though Product Hunt resulted in the most subscribers on a single day, launching on Twitter resulted in slightly more subscribers overall within a few days.
If you're interested in learning more about the initial launch on Twitter, read this other article about launching a newsletter.
Here's where I started, how I prepared to launch, and a precise look at how I promoted the launch.
Preface: What I started with before the launch in terms of reach
I want to be clear that the launch wasn't just a matter of putting something neat on Product Hunt and getting 100% lucky.
I definitely had a few channels for letting people know I was launching:
1,800 email subscribers — This is how many people have finished the email course since I launched on Twitter in May. I did not want to email anyone still taking the course, which would've been about 300 additional people.
10.8K followers on Twitter — And a lot of supportive people who retweeted the announcement tweet (shown later).
1,000+ followers on Product Hunt — I believe these are people who follow me on Twitter and happen to have Product Hunt accounts.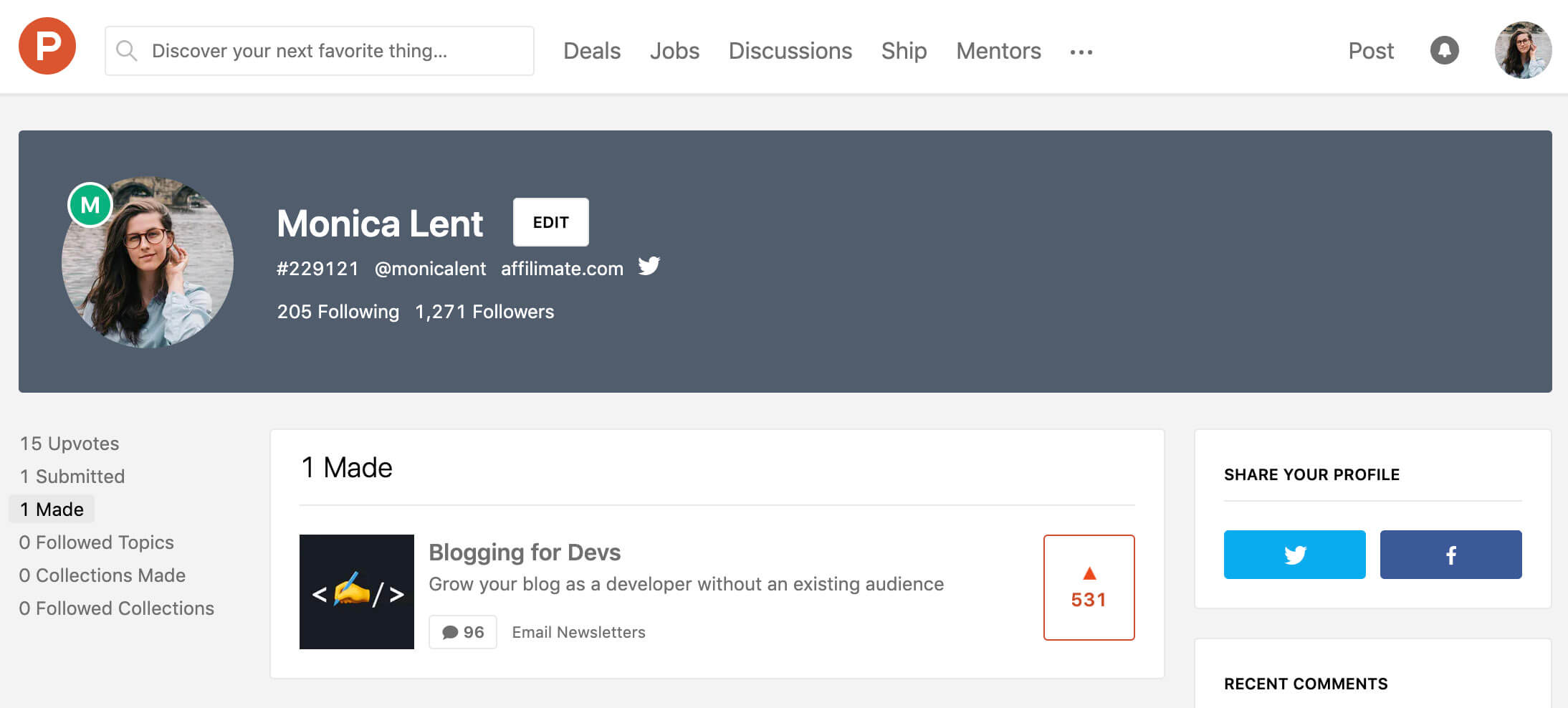 I totally get these numbers might seem super high.
At the same time, I believe I have the newsletter subscribers to thank for showing up with their support.
1,800 might seem like a lot of people (who am I kidding, it is a ton of people!) but when it comes to "email lists" it's still pretty modest.
Yeah, scale is a weird thing.
Preparation: Welcome to the world's smallest Product Hunt prep checklist
I was pretty lazy about this, so I didn't do any of these crazy 20-point checklists where people send emails to everyone in their address book and ask for votes.
Worked on my landing page — I did a little thread of what I changed on Twitter here if you want details.
Created a graphic — I tried to ask a friend to help me make something animated, but I gave up and got lazy. My logo was static text and an emoji.
Created a few screenshots — Homepage, a few of the emails, and a blog post. It probably took me about 30 minutes to make these.
Added a Product Hunt Launch Banner — I added a little "We're on Product Hunt" banner to the top of most pages on the website.
Scheduled the launch for midnight — Luckily this is 9AM in Europe so I didn't lose any sleep over this.
Scheduled an email announcement — Four lines of text, two links to Product Hunt. Super simple.
Announced on Twitter — Very quick and off-the-cuff. Written that morning. Includes a link to Product Hunt. Functioned as a thread for updates.
Added a milestone on Indie Hackers — Milestones don't have much visibility, and people launch on Product Hunt every day, so I wasn't expecting much here.
That's it. It actually wasn't too bad. I mostly prepared on Saturday, scheduled everything for a Monday launch, and that's it.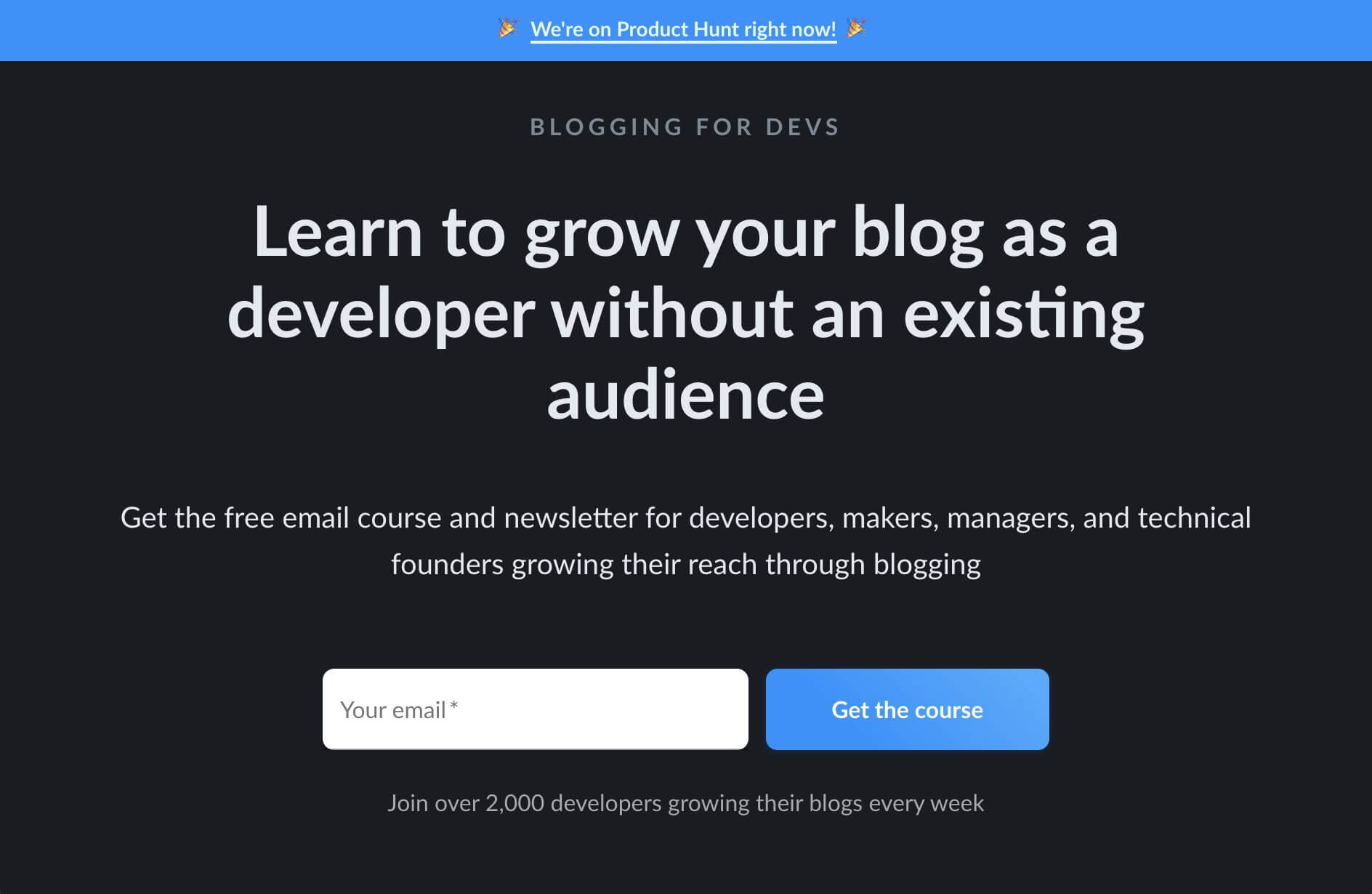 Execution: For better or worse, what I actually did to launch
Here are some specific screenshots of the elements of the launch in terms of getting the word out:
The Email announcement
The Tweet announcement
That's basically it :)
Announcing the Product Hunt Launch via Email
Four lines of body text. Two links. Nothing fancy. I basically copied the format from Dru's announcement.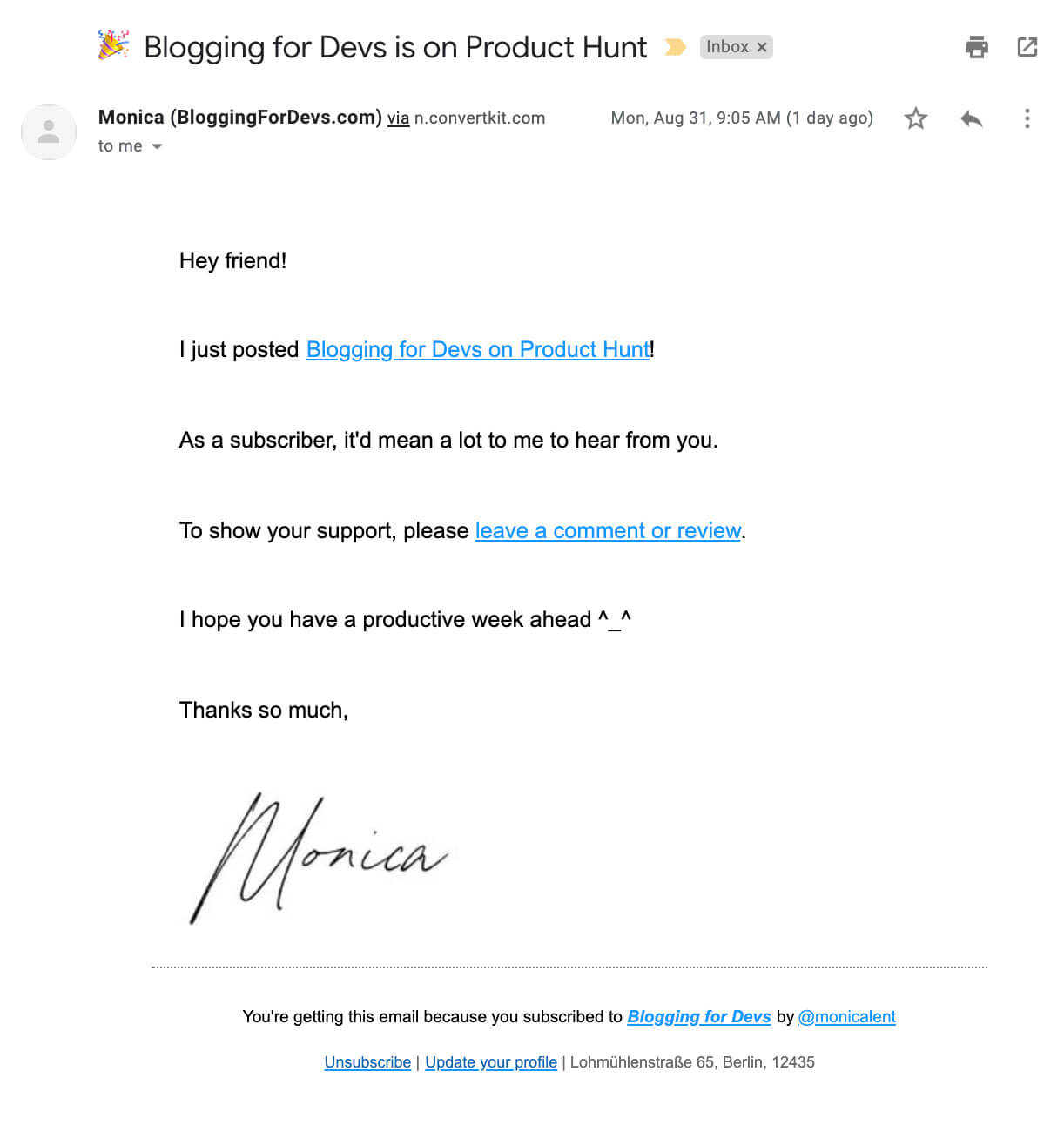 From ConvertKit's analytics, the links got 216 clicks from 11.6% of subscribers. The email itself had about a 46% open rate (bearing in mind, lots of developers have software that blocks open tracking like what ConvertKit uses).
Announcing via Twitter (and updating the thread with a few stats)
This is the tweet where I announced that I was launching on Product Hunt. Below, you can see some of the stats about how many people saw and clicked on the link in the Tweet.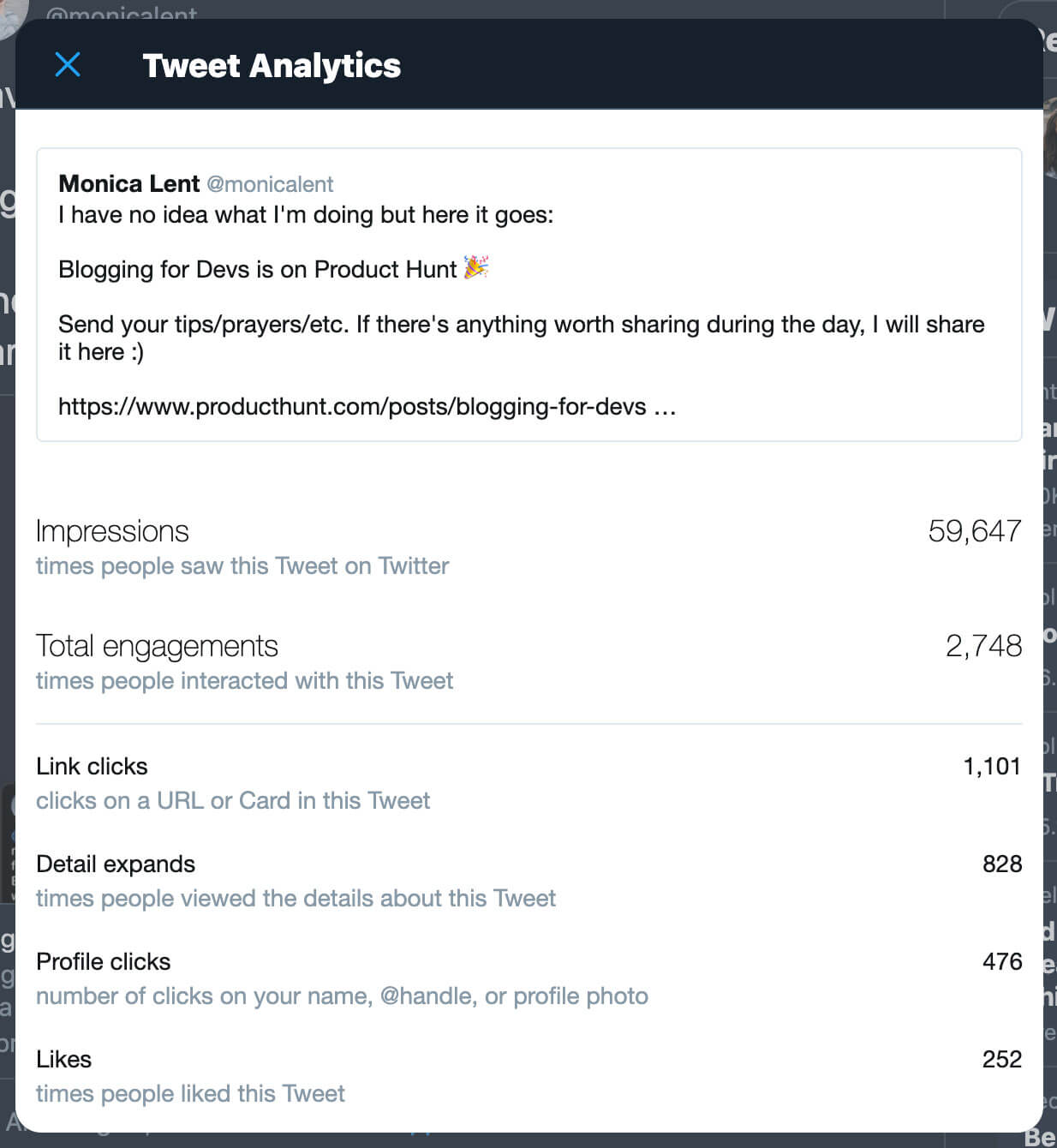 The reach is pretty wild, I have to say. That this tweet sent over 1,000 people to Product Hunt is massive.
I did update it throughout the day so it had a chance to resurface in people's feeds.
Those two things are mostly the only thing I did to actively promote the launch. No spamming of long-lost acquaintances or other hacks 😁
Reflection: What advice I followed, what I ignored, and my hypotheses about the winning elements
There's a lot of advice out there about how to "optimize" your launch on Product Hunt.
As this my first launch, it's hard to draw generalizations. Nevertheless, here's the advice I received and followed about the launch:
Product Hunt advice that worked for me
Launch at midnight, Pacific Standard Time. — I did this, and focused on sending out all the "promotions" at the same time, very shortly after launch.
Focus on comments. You're not allowed to ask for upvotes, but you can ask your subscribers or customers to "leave a comment or review". This led to a massive number of comments on Product Hunt!
Respond to all the comments. Seems obvious but if someone takes the time to leave a nice comment, replying is a good idea :)
Encourage comments in the first message. At the end of my intro message, I told people I'd be hanging out and open to ideas and feedback.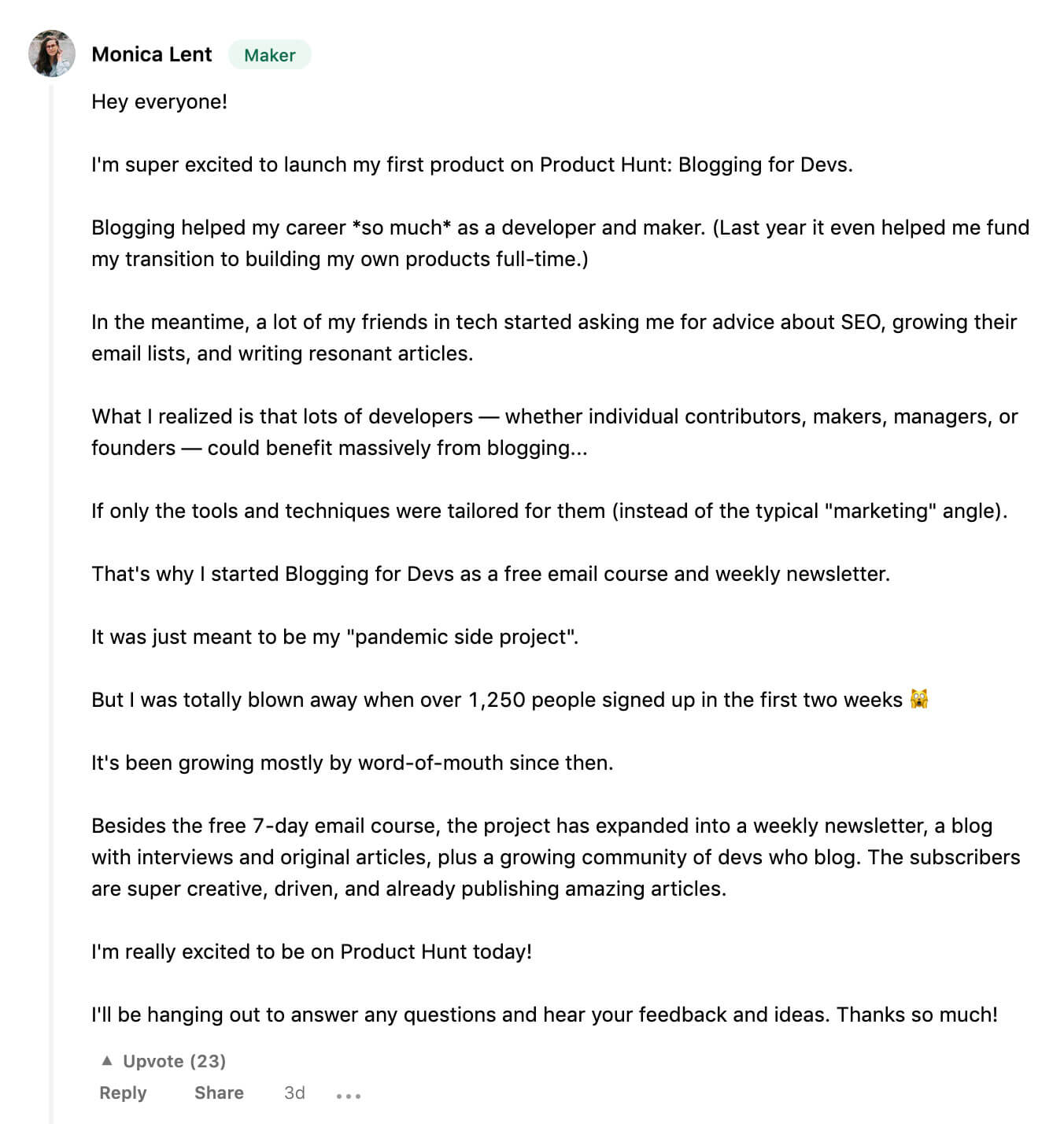 Product Hunt advice I didn't follow (and it worked out just fine)
Didn't get someone famous to hunt my product. I just hunted it myself. Granted, even as someone who isn't really active on Product Hunt besides supporting a few friends or upvoting a few products, I've never spent a ton of time on the platform. As mentioned earlier, I did have over 1,000 followers for whatever reason.
Didn't get a flashy GIF graphic. Actually they ask you not to use a flashy GIF when you're describing the product. I didn't have the skills to make one myself anyways.
Didn't send random emails to past contacts. Pretty sure I didn't send any 1:1 messages about the Product Hunt launch.
Didn't worry about what day I launched on. I just launched on a Monday, because I felt like subscribers are more likely to check their email to see my announcement message on a Monday (as opposed to the weekend).
Why I think the launch went well
Subscribers showed up to support! This is the number one reason, so THANK YOU if you're one of them. People were really nice and left thoughtful comments. I recognized almost all of the people from past email conversations we'd had about their websites and blogs.
Product Hunt wasn't the first launch. To take it one level further, it was a good idea to launch on Twitter first so people had something to actually leave a review about. With zero existing readers, the feedback would've been more about my personality than my content, I guess?
I live in a European timezone. Midnight PST is 9AM CEST (Central European Time). Since I live in Berlin and a lot of people who follow me on Twitter know me from conferences around Europe, this surely helped get a good boost early.
I got lucky. I couldn't have gotten the #1 spot if a huge brand like Intercom, Spotify, or some other massive brand had also launched something. So the element of luck cannot be ignored.
What surprised me about launching on Product Hunt
Product Hunt vs. Hacker News is no comparison in terms of reach. When one of my articles reached #1 on Hacker News, it resulted in up to 600 simultaneous users, and over 36 hours, 150,000 pageviews. Product Hunt was closer to 1% of that. I probably wouldn't worry about scalability in a Product Hunt launch.
It wasn't stressful at all. Again, a big contrast with being on Hacker News. I also didn't get any mean comments on Product Hunt which was quite nice (this may be moderated in some way, I'm not sure).
The boost from the daily email wasn't as big as I expected. People seem to put a lot of emphasis on ending up in the top 5, so you get in the daily recap email. The daily breakdown of subscribers was: 673 (Monday), 286 (Tuesday), 106 (Wednesday), 78 (Thursday), 27 (Friday so far).
That's pretty much it. If it I had to summarize, my learning would be:
Launch on another platform like Twitter first. Create things that help people achieve a goal that matters to them. Reply to every subscriber's email and be as helpful as you have the capacity for. The more you give, the more you get in return :)
As with a lot of things, hindsight is 20/20.
It's easy to break down something that "worked" and look smart afterwards.
In reality, I never planned to launch on Product Hunt at all so there was never a "master plan" to "build an email list" before launching there, or that one day all the hours of answering subscriber emails would "pay off".
I just did a thing and it seems people like it. Which is super motivating!
Thanks for reading, I hope you found some takeaways or things to try for your own launch on Product Hunt. Later days ✌️
You don't have to be Twitter-famous to grow your blog as a developer.
Take the free 7-Day Blogging for Devs Email Course and learn how to grow your blog without an existing audience through great writing and SEO.